Shopping Cart
Your Cart is Empty
There was an error with PayPal
Click here to try again
Thank you for your business!
You should be receiving an order confirmation from Paypal shortly.
Exit Shopping Cart
Mrs. French's English Class

Will the real William Shakespeare please stand up...?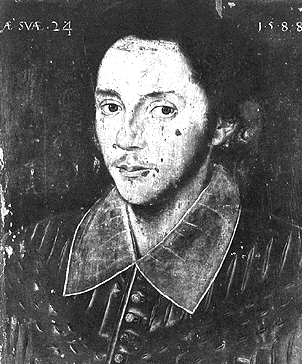 There have been hundreds of artists' renditions of Shakespeare portraits.
While no two are precisely the same, they all seem to possess similar
features: prominent eyes, narrow chin,
wry smile...oh, and the occasional frilly collar.
But what do you expect?
It was the 1500's...the late 1500's, but the 1500's none the less.
16th Century England was damp and dark and who could expect the great
WS to sit still for a portrait? He had plays and sonnets to write!
The Queen (Elizabeth) commands it!
Didst thou know...
Shakespeare wasn't the stuffy old Englishman he appears to be in portraits we see.
He was the rock star of the 15 & 1600's! Like the groupies of today, and decades and centuries past, WS was the "marry bachelor" everyone wanted as their friend...and sometimes more. They wanted to know him, be seen with him, go to pubs and parties with him.
Let's not forget our lovers Romeo & Juliet. They were THE biggest rebels of their time!!! Foolish rebels, but rebels none the less. We will experience life and love through the misadventures of the teenagers in the 1500-1600's.
Can it be true that human nature is really no different in the 21st century?
Sit back, the of you with patient ears attend, what here shall miss, our toil shall strive
to mend. Enjoy the life and writings of William Shakespeare.
The full 1968 Film is NOW available on Paramount + and Amazon Prime for
free if you have a family subscription. We MAY have time to watch some of the film in class.
If not, there are a few major scenes available: Click Here for the Balcony scene, Mercutio & Tybalt fight...Romeo and Juliet's 'em...well...you know how it ends.
FULL SCRIPT - this link provides the translation along side the Shakespearean version.
Graphic Novel - yes, you heard it...it's not a replacement, but a
supplement for the graphic novel fans out there.
Thou need'st to Scroll down a wee bit to the Research Questions
Here are some links to help you along the way.
Research (<--Open, Copy & Paste questions IF you want to type it!)
VIDEO TOURS & Such (use earbuds or ask for headphones)
What are some of the connections Akala makes between:
~Language and power
~Shakespeare and hip-hop
~Knowledge and custody
And for the GRAND FINALE!!
Watch Maverick Sabre, Mic Righteous, and EyeZ perform lyrics inspired
by Shakespeare's comedy and how he laid the foundation for British Wordsmiths.
Shakespeare Is Alllll Around Us
~based on the film Shakespeare in Love
Warning: If you are a hopeless romantic...do not watch this video.
If Romeo & Juliet was based on a true story...or parts of true stories...
was it really all roses and passion? Last chance...I warned you...
Directions: Carefully read the Prologue and respond to the questions that follow
Act I Prologue
Two households both alike in dignity,
In fair Verona where we lay our scene,
From ancient grudge break to new mutiny,
Where civil blood makes civil hands unclean.
5 From forth the fatal loins of these two foes
A pair of star-crossed lovers take their life;
Whose misadventured piteous overthrows
Doth with their death bury their parents' strife.
The fearful passage of their death-marked love
10 And the continuance of the parents' rage,
Which, but their children's end, nought could remove,
Is now the two hours' traffic of our stage;
The which, if you with patient ears attend,
What here shall miss, our toil shall strive to mend.
[Exit]
1.What is the setting of the play? Which country might this city be in?
2.Underline words/phrases that tell the reader that these two families don't get along.
3.Does the reader know why the families don't get along?
4.What does the reader know about the two families?
5.What do you think Shakespeare means by "star-crossed" (6)? You may need to look up this up in the dictionary.
6.Include your definition and explanation next to line 6 above.
7.Which line gives away ending. Line #
8.Why did Shakespeare tell his audience the ending?
9.How did he reassure them that spoiling the ending was not really spoiling the experience? Provide evidence.
Shakespeare's Writing Style: The Prologue is written in the style of a Sonnet.
10.What is a Sonnet?
11.Label the rhyme scheme of the Sonnet.
12.There are _________syllables in each line. This is called iambic pentameter.
Here is a fun-ish audio broken down scene by scene. If you are absent, follow

the reading schedule. The audio will make you feel like you are reading along

in class! R&J (Credit to my friend, Mr. A for sectioning the audio)

Your study guide for Romeo & Juliet contains pre-reading information as well as summaries, a breakdown of the play * and the blunders) by act & scene, and study guide questions. Please write you name on the guide as it is the only copy you will receive without a penalty of 10 points for misplacing it.

For additional guidance, the following links provide analysis, character descriptions, themes, the film, the script, etc.

1. Read from Act I scene 3 - end of Act I scene 5

2.Respond fully to the questions for Act I scene 2




Note: Most of you left off right before Juliet gives her answer to the proposal of marriage.

Will she agree to marry Count Paris?




Find your place on page 22 of this online script (click here) or on the copy you received in class today.




3. List 3 songs that remind you of Romeo and Juliet's theme. Which song heard today remind you of the play, R&J? How do these songs remind you of this play? If you were to write a song about this play, what would the title of the song be?




Spark Notes for summary, notes, explanation of themes




Shmoop for summary, notes, explanation of themes




The full script (translated)

ROMEO & JULIET

REVIEW FOR TUESDAY 5/31

Passage 1: Why is Capulet So angry? What exactly does he threaten?

How many instances of DRAMATIC IRONY are occuring in this scene? (you have to think about how much each character did NOT know about Capulets plan to cheer everyone up with a surprise wedding!)




Ex. Little did Capulet know but Juliet was already married.

Little did Lady Capulet know...

Little did Romeo know...

Little did Paris know...

Little did Friar Lawrence know...!!! Holy Saint Francis!!!!

CAPULET

God's bread! it makes me mad:

Day, night, hour, tide, time, work, play,

Alone, in company, still my care hath been

To have her match'd: and having now provided

A gentleman of noble parentage,

Of fair demesnes, youthful, and nobly train'd,

Stuff'd, as they say, with honourable parts,

Proportion'd as one's thought would wish a man;

And then to have a wretched puling fool,

A whining mammet, in her fortune's tender,

To answer 'I'll not wed; I cannot love,

I am too young; I pray you, pardon me.'

But, as you will not wed, I'll pardon you:

Graze where you will you shall not house with me:

Look to't, think on't, I do not use to jest.

Thursday is near; lay hand on heart, advise:

An you be mine, I'll give you to my friend;

And you be not, hang, beg, starve, die in

the streets,

For, by my soul, I'll ne'er acknowledge thee,

Nor what is mine shall never do thee good:

Trust to't, bethink you; I'll not be forsworn.

Exit

JULIET

Is there no pity sitting in the clouds,

That sees into the bottom of my grief?

O, sweet my mother, cast me not away!

Delay this marriage for a month, a week;

Or, if you do not, make the bridal bed

In that dim monument where Tybalt lies.




LADY CAPULET

Talk not to me, for I'll not speak a word:

Do as thou wilt, for I have done with thee.

Exit

Act II scene ii : The Balcony Scene Click Here For a file that will walk you through the most important parts of the Balcony Scene. I promise it is a good one!!!

Please review the notes page in your study guide that breaks down the play scene by scene.

Good luck tomorrow! Adieu!!!

ROMEO

He jests at scars that never felt a wound.

ROMEO

He jokes about scars from wounds he's never felt.

JULIET appears in a window above

JULIET enters on the balcony.

5

*

*

*

*

10

*

*

*

*

15

*

*

*

*

20

*

*

*

*

25

But soft! What light through yonder window breaks?

It is the east, and Juliet is the sun.

Arise, fair sun, and kill the envious moon,

Who is already sick and pale with grief,

That thou, her maid, art far more fair than she.

Be not her maid since she is envious.

Her vestal livery is but sick and green,

And none but fools do wear it. Cast it off!

It is my lady. Oh, it is my love.

Oh, that she knew she were!

She speaks, yet she says nothing. What of that?

Her eye discourses. I will answer it.—

I am too bold. 'Tis not to me she speaks.

Two of the fairest stars in all the heaven,

Having some business, do entreat her eyes

To twinkle in their spheres till they return.

What if her eyes were there, they in her head?

The brightness of her cheek would shame those stars

As daylight doth a lamp. Her eye in heaven

Would through the airy region stream so bright

That birds would sing and think it were not night.

See how she leans her cheek upon her hand.

Oh, that I were a glove upon that hand

That I might touch that cheek!

Wait! What light is that in the window over there? It is the east, and Juliet is the sun. Rise beautiful sun and kill the jealous moon, which is already sick and pale with grief because Juliet, her maid, is more beautiful than she. Don't be her maid, since she's jealous. The moon's virginity makes her look sick and green, and only fools hold on to their virginity. Throw it off. It is my lady. Oh, it is my love. Oh, I wish she knew I loved her. She's talking, but isn't saying anything. Why is that? Her eyes are speaking. I'll respond—no, I am too bold. It's not to me she speaks. Two of the most beautiful stars in the sky had to go off on some business, and begged her eyes to twinkle in their place until they return. If her eyes were in the sky and the stars were in her head the brightness of her cheeks would overwhelm the stars just as daylight outshines a lamp. And her eyes in the night sky would shine so brightly that birds would start singing, thinking it was day. Look how she leans her cheek against her hand. I wish I was a glove on that hand so I could touch that cheek.


ROMEO

(aside) She speaks.

O, speak again, bright angel! For thou art

As glorious to this night, being o'er my head,

As is a wingèd messenger of heaven

Unto the white, upturnèd, wondering eyes

Of mortals that fall back to gaze on him

When he bestrides the lazy-puffing clouds

And sails upon the bosom of the air.

ROMEO

(to himself) She speaks. Speak again, bright angel. For tonight you are as glorious as an angel, shining above my head like a winged messenger from heaven who makes mortals fall onto their backs to gaze up in awe as the angel strides across the clouds and sails through the air.

JULIET

O Romeo, Romeo! Wherefore art thou Romeo?

Deny thy father and refuse thy name.

Or, if thou wilt not, be but sworn my love,

And I'll no longer be a Capulet.

JULIET

Oh, Romeo, Romeo, why must you be Romeo? Deny your father and give up your name. Or, if you won't change your name, just swear your love to me and I'll give up being a Capulet.

ROMEO

(aside) Shall I hear more, or shall I speak at this?

ROMEO

(to himself) Should I listen longer, or respond now to these words?

JULIET

'Tis but thy name that is my enemy.

Thou art thyself, though not a Montague.

What's Montague? It is nor hand, nor foot,

Nor arm, nor face, nor any other part

Belonging to a man. O, be some other name!

What's in a name? That which we call a rose

By any other word would smell as sweet.

So Romeo would, were he not Romeo called,

Retain that dear perfection which he owes

Without that title. Romeo, doff thy name,

And for that name, which is no part of thee

Take all myself.

JULIET

Only your name is my enemy. You'd be yourself even if you ceased to be a Montague. What's a Montague, after all? It's not a hand, foot, arm, face, or any other body part. Oh, change your name! What's the significance of a name? The thing we call a rose would smell as sweet even if we called it by some other name. So even if Romeo had some other name, he would still be perfect. Romeo, take off your name—which really has no connection to who you are—and take all of me instead.

ROMEO

      I take thee at thy word.

Call me but love, and I'll be new baptized.

Henceforth I never will be Romeo.

JULIET

What man art thou that, thus bescreened in night,

So stumblest on my counsel?

ROMEO

(Out loud) I take you at your word. If you call me your love, I'll take a new name. From now on I'll never again be Romeo.

JULIET

Who are you, hiding in the darkness and eavesdropping on my private thoughts?

ROMEO

               By a name

I know not how to tell thee who I am.

My name, dear saint, is hateful to myself

Because it is an enemy to thee.

Had I it written, I would tear the word.

ROMEO

I don't know how to tell you who I am by using a name. I hate my name, dear saint, because it is your enemy. If I had it written down, I would tear up the word.

JULIET

My ears have not yet drunk a hundred words

Of that tongue's uttering, yet I know the sound.

Art thou not Romeo, and a Montague?

ROMEO

Neither, fair maid, if either thee dislike.

JULIET

I've not yet even heard you say a hundred words, yet I recognize the sound of your voice. Aren't you Romeo, the Montague?

ROMEO

I'll be neither of those things, my love, if you dislike them.

JULIET

How camest thou hither, tell me, and wherefore?

The orchard walls are high and hard to climb,

And the place death, considering who thou art,

If any of my kinsmen find thee here.

ROMEO

With love's light wings did I o'erperch these walls,

For stony limits cannot hold love out,

And what love can do, that dares love attempt.

Therefore thy kinsmen are no stop to me.

JULIET

How and why did you come here? The orchard walls are high and difficult to climb. And it will mean your death, because of who you are, if any of my family find you here.

ROMEO

I flew over these walls on the wings of love. No stone wall can keep love out. Whatever a man in love can do, love will make him attempt to do it. Therefore your relatives can't stop me.

JULIET

If they do see thee they will murder thee.

ROMEO

Alack, there lies more peril in thine eye

Than twenty of their swords. Look thou but sweet,

And I am proof against their enmity.

JULIET

I would not for the world they saw thee here.

JULIET

If they see you they'll murder you.

ROMEO

I am more concerned about the look in your eye than I would be with twenty of your relatives with swords. If you just look at me with love, their hatred would not be able to touch me.

JULIET

I'd give the world to make sure they do not see you here.

ROMEO

I have night's cloak to hide me from their eyes,

And but thou love me, let them find me here.

My life were better ended by their hate

Than death proroguèd, wanting of thy love.

JULIET

By whose direction found'st thou out this place?

ROMEO

The darkness of night will hide me from their eyes. And if you don't love me, then let them find me. I'd rather they killed me in hatred than experience the prolonged death of life without your love.

JULIET

Who told you how to find my my bedroom?

ROMEO

By love, that first did prompt me to inquire.

He lent me counsel and I lent him eyes.

I am no pilot. Yet, wert thou as far

As that vast shore washed with the farthest sea,

I would adventure for such merchandise.

ROMEO

Love, which spurred me to come and find you. Love advised me, while I lent love my eyes. I'm no a sailor. Still, even if you were on the shore across the farthest sea, I would set out to find you.

*

85

*

*

*

*

90

*

*

*

*

95

*

*

*

*

100

*

*

*

*

105

JULIET

Thou know'st the mask of night is on my face,

Else would a maiden blush bepaint my cheek

For that which thou hast heard me speak tonight.

Fain would I dwell on form. Fain, fain deny

What I have spoke. But farewell compliment!

Dost thou love me? I know thou wilt say "ay,"

And I will take thy word. Yet if thou swear'st

Thou mayst prove false. At lovers' perjuries,

They say, Jove laughs. O gentle Romeo,

If thou dost love, pronounce it faithfully.

Or if thou think'st I am too quickly won,

I'll frown and be perverse and say thee nay,

So thou wilt woo. But else, not for the world.

In truth, fair Montague, I am too fond,

And therefore thou mayst think my 'havior light.

But trust me, gentleman, I'll prove more true

Than those that have more coying to be strange.

I should have been more strange, I must confess,

But that thou overheard'st, ere I was 'ware,

My true love's passion. Therefore pardon me,

And not impute this yielding to light love,

Which the dark night hath so discovered.

ROMEO

Lady, by yonder blessèd moon I vow,

That tips with silver all these fruit-tree tops—

JULIET

The darkness of night masks my face, or else you'd see me blushing about the things you heard me say tonight. I would gladly stick to the proper manners of courtship and deny everything I said. But, instead: goodbye good manners! Do you love me? I know you will answer "yes," and I will trust you. But your swears may turn out to be false. They say that Zeus laughs when lovers lie. Oh noble Romeo, if you really love me, say it in truth. Or if you think I'm letting myself be won too easily, then I'll frown and act superior and unapproachable so that you'll woo me. But if that's not necessary, then I would never act that way. In truth, beautiful Montague, I like you too much, which might make it seem as if I am overly silly and flirtatious. But trust me, gentleman, I'll prove to be more faithful than girls who act coy and standoffish. I probably should have acted more standoffish, I confess, but you overheard me talking about my passion for you before I knew you were there. So please forgive me, and don't condemn me for so quickly falling in love when it was only revealed to you because the dark night let you discover it.

ROMEO

Lady, I swear by the sacred moon, which outlines in silver the tops of these fruit trees—

JULIET

O, swear not by the moon, th' inconstant moon,

That monthly changes in her circle orb,

Lest that thy love prove likewise variable.

ROMEO

What shall I swear by?

JULIET

Please don't swear by the moon, the unreliable moon, which changes its position in the sky each month. I do not want your love to end up being similarly variable.

ROMEO

What should I swear by?

JULIET

               Do not swear at all.

Or, if thou wilt, swear by thy gracious self,

Which is the god of my idolatry,

And I'll believe thee.

ROMEO

               If my heart's dear love—

JULIET

Don't swear at all. Or, if you must swear, swear by your magnificent self, which is the god I worship like an idol, and I'll believe you.

ROMEO

If my heart's dear love—

JULIET

Well, do not swear. Although I joy in thee,

I have no joy of this contract tonight.

It is too rash, too unadvised, too sudden,

Too like the lightning, which doth cease to be

Ere one can say "It lightens." Sweet, good night.

This bud of love, by summer's ripening breath,

May prove a beauteous flower when next we meet.

Good night, good night! As sweet repose and rest

Come to thy heart as that within my breast.

JULIET

Well, don't swear. Although you bring me joy, I can't take joy in this exchange of promises tonight. It's too wild, thoughtless, sudden. It's too much like lightning, which disappears before you can even say, "it's lightning." My love, good night. Our love, which now is like a flower bud, may blossom in the summer air into a beautiful flower by the next time we meet. Good night! I hope you fell in your heart the same sweet calm and rest that I feel in mine.

ROMEO

O, wilt thou leave me so unsatisfied?

JULIET

What satisfaction canst thou have tonight?

ROMEO

Th' exchange of thy love's faithful vow for mine.

JULIET

I gave thee mine before thou didst request it,

And yet I would it were to give again.

ROMEO

Are you going to leave me so unsatisfied?

JULIET

What satisfaction could you have tonight?

ROMEO

If we exchanged vows of love.

JULIET

I pledged my love before you even requested it. But now I wish I could take that promise back to give again.

ROMEO

Wouldst thou withdraw it? For what purpose, love?

ROMEO

You'd take back your vow? Why, my love?

JULIET

But to be frank, and give it thee again.

And yet I wish but for the thing I have.

My bounty is as boundless as the sea,

My love as deep. The more I give to thee,

The more I have, for both are infinite.

I hear some noise within. Dear love, adieu.—

Anon, good Nurse!—Sweet Montague, be true.

Stay but a little. I will come again.

JULIET

In order to generously give it to you again. But I'm wishing for something I have already. My generosity to you is as endless as the sea, my love as deep as the sea. The more love I give you, the more I have. Both are infinite.

The NURSE calls from offstage.

I hear a noise from inside. Dear love, goodbye—Just a second, Nurse!—Sweet Montague, be true. Stay for a moment. I'll come right back.

ROMEO

O blessèd, blessèd night! I am afeard,

Being in night, all this is but a dream,

Too flattering sweet to be substantial.

ROMEO

Oh, blessed, blessed night! Because it's night, I'm scared that all this is a dream. It is too wonderful to be real.

JULIET enters on her balcony.

JULIET

Three words, dear Romeo, and good night indeed.

If that thy bent of love be honorable,

Thy purpose marriage, send me word tomorrow

By one that I'll procure to come to thee

Where and what time thou wilt perform the rite,

And all my fortunes at thy foot I'll lay

And follow thee my lord throughout the world.

NURSE

(from within) Madam!

JULIET

Three words, dear Romeo, and then good night. If your love is honorable and you want to marry me, send me word tomorrow. I'll find a messenger who will come to you, and you can tell that messenger when and where we will be married. All my fortunes I'll lay at your feet and follow you, my lord, all over the world.

JULIET

I come, anon.—But if thou mean'st not well,

I do beseech thee—

NURSE

(from within) Madam!

JULIET

I'll be right there! (to ROMEO) But if your intentions are not honorable, I beg you—

JULIET

By and by, I come.—

To cease thy strife and leave me to my grief.

Tomorrow will I send.

JULIET

A thousand times good night!

JULIET

In a second, I'm coming!— (to ROMEO) to give up your efforts to win me and leave me to grieve. I'll send the messenger tomorrow.

ROMEO

My soul depends on it—

JULIET

A thousand times good night.

ROMEO

A thousand times the worse to want thy light.

Love goes toward love as schoolboys from their books,

But love from love, toward school with heavy looks.

Moves to exit. Reenter JULIET, above


ROMEO

It is a thousand times worse to leave you. A lover goes toward his beloved as joyfully as a schoolboy leaving his books. But when a lover leaves his beloved, he is as unhappy as a schoolboy on his way to school.

ROMEO starts to leave. JULIET returns, on her balcony.


JULIET

Hist! Romeo, hist!—Oh, for a falconer's voice,

To lure this tassel-gentle back again!

Bondage is hoarse, and may not speak aloud,

Else would I tear the cave where Echo lies,

And make her airy tongue more hoarse than mine,

With repetition of "My Romeo!"

ROMEO

It is my soul that calls upon my name.

How silver-sweet sound lovers' tongues by night,

Like softest music to attending ears!

JULIET

Psst! Romeo! Psst! Oh, I wish I could cry out like a falconer, so I could call my little falcon to return to me. Stuck as I am in my family's house, I have to be quiet. Otherwise I would tear open the cave where Echo sleeps and make her call out my love's name until her voice grew more hoarse than mine by repeating, "My Romeo!"

ROMEO

It is my soul that calls out my name. Lovers voices at night sound silver-sweet, the most lovely music to lovers' ears.

JULIET

      What o'clock tomorrow

Shall I send to thee?

ROMEO

      By the hour of nine.

JULIET

I will not fail. 'Tis twenty year till then.

I have forgot why I did call thee back.

ROMEO

Let me stand here till thou remember it.

JULIET

At what time tomorrow should I send the messenger to you?

JULIET

I won't fail. It will feel like twenty years til then. I've forgotten why I called you back.

ROMEO

I'll stand here until you remember.

JULIET

I shall forget, to have thee still stand there,

Remembering how I love thy company.

ROMEO

And I'll still stay, to have thee still forget,

Forgetting any other home but this.

JULIET

I'll forget it, so you'll have to stand there forever, because of how much I love your company.

ROMEO

And I'll remain here, even if you keep forgetting. I'll forget that I have any other home but here.

JULIET

'Tis almost morning. I would have thee gone.

And yet no further than a wanton's bird,

That lets it hop a little from his hand

Like a poor prisoner in his twisted gyves,

And with a silken thread plucks it back again,

So loving-jealous of his liberty.

JULIET

It's almost morning. I want to force you to go. Yet I would not let you move any further than a spoiled child would let his pet bird go. The child so loves the bird that he will not let the bird hop any more than a small distance from his hand before pulling it back by a silk thread.

ROMEO

I would I were thy bird.

JULIET

               Sweet, so would I.

Yet I should kill thee with much cherishing.

Good night, good night! Parting is such sweet sorrow

That I shall say good night till it be morrow.

ROMEO

I wish I was your bird.

JULIET

My sweet, so do I. But I would pet you so much it would kill you. Good night. Good night! Parting is such sweet sorrow that I will say good night until it becomes tomorrow.

ROMEO

Sleep dwell upon thine eyes, peace in thy breast.

Would I were sleep and peace, so sweet to rest.

Hence will I to my ghostly friar's close cell,

His help to crave and my dear hap to tell.

ROMEO

Sleep well and peacefully. I wish that I were sleep and peace, so I could sleep with you. From here I'll go see my priest, to tell him of my luck and ask for his help.

I broke up Juliets SOLILOQUY (speaking one's thoughts alone on stage) according to the emotion she's experiencing. (fear, uncertainty, paranoia, horror, disgust, terror, urgency, etc.) I completed two sections for you. Go through each section and explain Juliet's thoughts and emotions at that moment.

Farewell! God knows when we shall meet again.

I have a faint cold fear thrills through my veins,

That almost freezes up the heat of life:

I'll call them back again to comfort me:

Nurse! What should she do here?

My dismal scene I needs must act alone.

---------------------------------------------------------

Come, vial.

What if this mixture do not work at all?

Shall I be married then to-morrow morning?

No, no: this shall forbid it: lie thou there.

Laying down her dagger

----------------------------------------------------------

What if it be a poison, which the friar

Subtly hath minister'd to have me dead,

Lest in this marriage he should be dishonour'd,

Because he married me before to Romeo?

I fear it is: and yet, methinks, it should not,

For he hath still been tried a holy man.

---------------------------------------------------------

How if, when I am laid into the tomb,

I wake before the time that Romeo

Come to redeem me? there's a fearful point!

Shall I not, then, be stifled in the vault,

To whose foul mouth no healthsome air breathes in,

And there die strangled ere my Romeo comes?

--------------------------------------------------------

Or, if I live, is it not very like,

The horrible conceit of death and night,

Together with the terror of the place,--

As in a vault, an ancient receptacle,

Where, for these many hundred years, the bones

Of all my buried ancestors are packed:

Where bloody Tybalt, yet but green in earth,

Lies festering in his shroud; where, as they say,

-------------------------------------------------------

At some hours in the night spirits resort;--

Alack, alack, is it not like that I,

So early waking, what with loathsome smells,

And shrieks like mandrakes' torn out of the earth,

That living mortals, hearing them, run mad:--

-------------------------------------------------------

O, if I wake, shall I not be distraught,

Environed with all these hideous fears?

And madly play with my forefather's joints?

And pluck the mangled Tybalt from his shroud?

And, in this rage, with some great kinsman's bone,

As with a club, dash out my desperate brains?

-------------------------------------------------------

section 7: Juliet musters the bravery to convince herself

she will not go insane and use a bone from a dead

ancestor to bash in her own skull. (that's a tough part)

O, look! methinks I see my cousin's ghost

Seeking out Romeo, that did spit his body

Upon a rapier's point: stay, Tybalt, stay!

Romeo, I come! this do I drink to thee.

She falls upon her bed, within the curtains

section 8: Juliet fears she is taking too long to finally do it and Tybalt's ghost will seek revenge on Romeo if she wait any longer.


0

/